Some Club History
Background
The Royal Australian Naval Sailing Association exists to encourage sailing within the Navy. We were originally established as the Australia Station of the Royal Naval Sailing Association in 1947, but in 1966, with the blessing RNSA, were launched in our own right as RANSA. RANSA has had a continuing history of involvement in the local Sydney sailing scene ever since. RANSA has a busy racing schedule throughout the year, including a Winter Point Score Series on Saturdays, a Midweek Series on Wednesday afternoons, and a Friday Twilight Series during the summer months. Additionally RANSA is a keen supporter of Navy sailing activities. Social events are also regular items on our calendar. Monthly "theme" dinner nights and after race barbeques are very popular, as are weekend cruises and annual "Pirate's Day".
History of RANSA
A great deal of the history of RANSA resides in the heads of its current and former members, and not a lot of it has been formally written down. However, the following link is to a collection of memories introduced by Dick Cowdery, with pieces written by Lawrence Hinchcliffe, Aurian Bird, Syd Sharp and Bill Ford. The booklet was produced for the 50th anniversary of the Royal Navy Sailing Association (RNSA), the body from which RANSA emerged in 1966. To view the booklet, click here.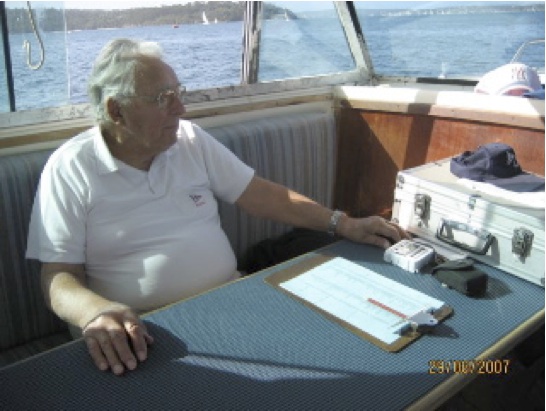 Photo: Bill Ford
Membership
Membership is open to all serving and retired Naval personnel, and Service membership is open to serving and retired Army and Air Force personnel. A category of membership for non-service personnel is also available.
Facilities
Members may use the premises, on arrangement, for private functions, including the Rushcutters Room which seats sixty and the new undercover area. A slipway is available to members, rated to 4 tonnes, at a nominal fee. Moorings are available at very competitive rates. Their numbers are limited however and, dependant on availability, preference is given to current serving members in the RAN. Those who do not own their own boat and wish to sail are encouraged to come down the club on race days and usually there will be a place on a members boat. RANSA runs primarily on a volunteer basis. Members are asked to do occasional bar duties and provide assistance where possible. This proves to be a great way to get to know members!
Future
RANSA will continue its commitment to encourage sailing throughout the Navy and its involvement in the Sydney Racing Calendar.
Last Modified on 02/12/2016 15:09